Day 4: Lucia to Cayucos
12 April 2011
I woke up early and watched the sun rise over the mountains.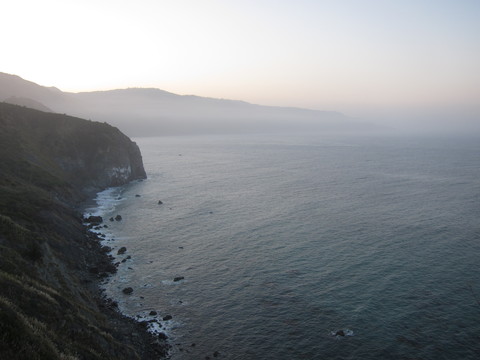 After a continental breakfast at Lucia, we set out, with Kalvin riding the morning shift and Sue meeting us at Ragged Point. First thing after we left, we passed two sites where there was road work being done and there was only one lane. Bicyclists had to push a button in order for the light to give them enough time to cross the entire gap.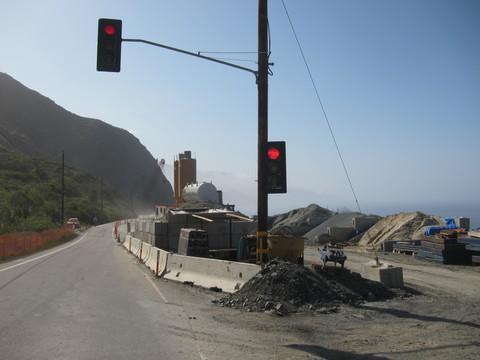 I saw a sign, "END ROAD WORK", followed immediately by another sign, "ROAD WORK AHEAD". Story of Big Sur...
We passed Nacimiento-Fergusson, which was the first real cross street for Hwy 1 south of the Rocky Creek closure (over 40 miles south, in fact), then two more construction sites. Just south of Gorda they had recently cleared the road after a landslide from above. You can see the crews inspecting the hillside (on the hill, upper right) to determine whether it is safe: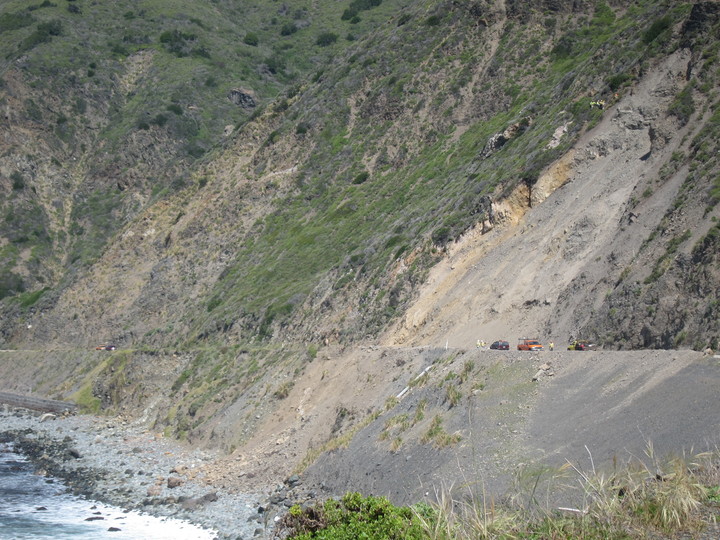 On Thursday, just two days after we had passed through, this road would be closed again by yet another landslide, with the closure projected to last a month! We really got lucky, being able to pass through when we did.
The slide south of Gorda marked the beginning of the climb over to Ragged Point. We made it over and met Sue at Ragged Point, but decided we would just switch drivers and head to San Simeon for lunch instead.
After the descent from Ragged Point, the mountains receded from the coast and the road straightened out a bit. A tailwind made the miles go by quickly. We zoomed past the beaches (including a couple with elephant seals) as well as the turnoff to Hearst Castle.
At San Simeon, we found on Yelp a nice-looking nearby place to eat lunch. We then discovered that the place was actually not where Yelp showed it to be, but several miles north! No one wanted to bike several miles into a headwind. Lunch options in San Simeon were pretty sparse, but we did have a nice sit-down lunch at a hotel restaurant (Cavalier, attached to the Best Western in town).
After lunch, the tailwind really came out in full force as the road headed inland among the rolling hills, past Cambria. We covered the last 20 miles to Cayucos in just an hour.
In Cayucos, Kalvin had found that the hotel I had made reservations at (Vagabond Inn Cayucos) had changed ownership, and that they had silently dropped our reservation! However, Kalvin had instead obtained a room at the Cypress Tree Motel just a block away, which had individually themed rooms (ours was train themed), and was cheaper, to boot.
After getting settled in, we went down to walk along the beach for a bit (Cayucos is tiny, and everything in the commercial part of Cayucos is only about two blocks' walk from the beach).
For dinner, we found a nice-looking pizza place on Yelp and Kalvin left to go bring back a pizza from there. Unfortunately, the hours listed on Yelp were incorrect and the place was in fact completely closed on this Tuesday evening. (The worst part was that we had already debated for about half an hour what kind of a pizza to get, and obtained drinks and other complements from the grocery store.) Second Yelp failure of the day! Instead, we all walked over to another nearby restaurant, Schooner's Wharf, and had a decent sit-down meal.