Day 5: Cayucos to Santa Maria
13 April 2011
We went down the block to eat breakfast at Sea Shanty, which is known for its greasy (and very good) breakfasts, as well as, apparently, its collection of baseball caps.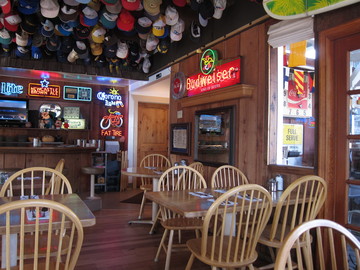 After breakfast we headed out. Morro Bay was the next town over from Cayucos, and we took a short detour to check out Morro Rock.
We had long ago left Big Sur and the really mountainous region of the coast. From here through to the end of the trip, there would still be plenty of nice scenery, but very little of the undeveloped land we had spent most of the last several days passing through.
After Morro Rock, the morning's ride took us down Los Osos Valley Rd, where we had the benefit of a fantastic tailwind. We then had to cross Hwy 101, twice. After a short climb up Avila Beach Rd, we were rolling down towards Pismo Beach.
The roads leading up to Pismo Beach were all filled with enormous and densely-packed cookie-cutter homes with beach views. Here Hwy 1 and Hwy 101 were colocated, but we followed a frontage road, Shell Beach Rd, to escape the traffic.
We met Sue in Pismo Beach and she suggested we have lunch at a Thai place (Thai Dheva). We were all happy to eat anything that wasn't American food, so we hopped back on our bikes and biked the last couple of miles to the restaurant, in Grover Beach.
After lunch, Kalvin took the car keys and Sue headed with us to Santa Maria. We stopped by Oceano Memorial Campground to top off on water and struck up a conversation with a retired Amtrak mechanic who was in a group that was driving antique RVs to some sort of festival. He had done some cycle touring before and seemed very interested in what we were up to.
Past Oceano, there were a couple more small climbs, but now we were heading alternately southeast and southwest along the roads, and the crosswind (a northwest wind) was very annoying in some places. We turned off Hwy 1 at Oso Flaco Lake Rd (and got a tailwind, thankfully) and started down some farm roads.
As we headed away from the highway the roads got progressively worse. At one point the paved road gave way, for a short segment, to a dirt road that had been torn up by tractor wheels. Traction was terrible in the dry dirt and there were a million tiny bumps in the road. Immediately after, we turned off to take a gravel road that followed an irrigation ditch. Sue was apprehensive about the gravel road, but all things considered, it was much better than the road we had just left. A dust storm was brewing in the distance, but it didn't end up bothering us.
The road took us to the edge of Santa Maria, where it was a public use trail. We continued down the main thoroughfare of Santa Maria until we reached our hotel, the Travelodge Santa Maria.
It did not seem like it would be very fun to walk anywhere in Santa Maria, so after a bit of restaurant research we all piled into the car and headed to Shaw's Famous Steak House. This was a somewhat nonstandard (perhaps just old fashioned) steakhouse. Besides the usual things— meat, potatoes, and bread— they brought out crudités, pickles, olives, and salsa as starters. The ceiling fans were all driven by a single motor, via a chain drive that crackled through our entire dinner. The ribs here were quite good.
After dinner, we headed back to the hotel with the intention of enjoying the hot tub, but it looked like it was filled with suds. Instead, the others played Settlers of Catan online.