Day 20: Hiking to Grosse Scheidegg
5 July 2010
I had been wanting to go back to Hornseeli (though, I had been somewhat sated by the hike up to Bachalpsee), and today was our chance. As it turns out, guests at Hotel Rosenlaui can get free bus passes from Meiringen to Grindelwald, so we obtained some and then headed up the trail. The bottom part wound through forests, which were still covered in morning fog when we passed.
After a bit, the trees gave way, the sun came out, and we got a good view of Grosse Scheidegg. We passed through what must have been some farmers' front yards. There were lots of pigs and cows.
| | | |
| --- | --- | --- |
| | Grosse Scheidegg | |
At the junction with the Romantic Road, Kekoa and Cynthia didn't think they were prepared for a muddy hike, so we decided to just do the short walk to Grosse Scheidegg rather than head up to Hornseeli.
Soon we were at Grosse Scheidegg (for the third time on this trip!).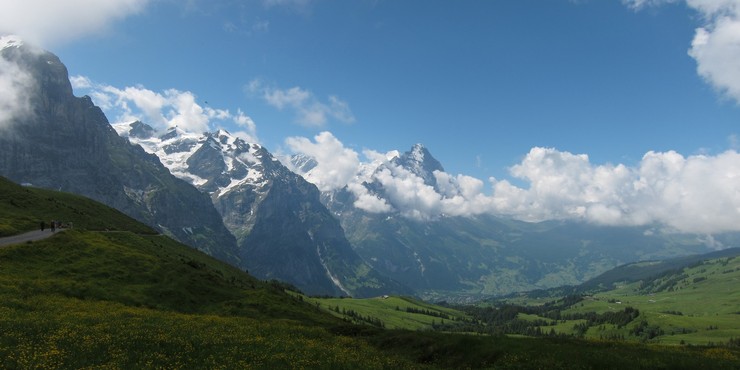 View of Grindelwald from Grosse Scheidegg
As we walked along the ridge towards the hotel and bus stop, some very dramatic clouds rolled over the pass. We heard some icefall on the mountain, but we couldn't see anything through the clouds.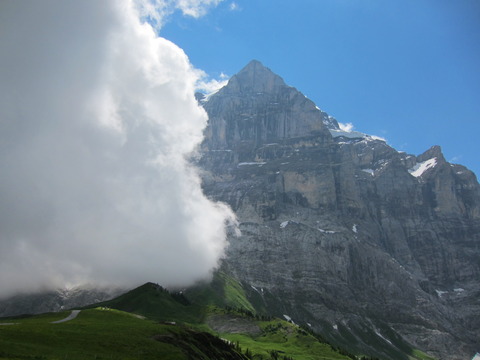 At the restaurant I had some soup and sausage, and then we waited for the bus down. I spent the rest of the afternoon relaxing and repacking my bags for the bike. Before dinner, I went outside to take a short walk along the stream.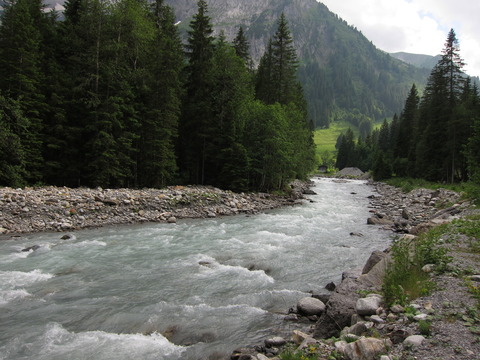 Once again, we finished the day with a delicious four-course dinner.
I had been waiting to come back to Rosenlaui since my previous trip, and my time here did not disappoint. It's one of the most beautiful places I've had the fortune to visit in my life. What a wondrous place this is, where you can get away from the crowds (Rosenlaui does not appear in most of the guidebooks), and still come back to the hotel at the end of the day and have a hot shower and a world-class meal! This was a great way to end my trip to Europe.