Day 4: Innsbruck, Austria
19 June 2010
The sight of the mountains overlooking the city is really just striking.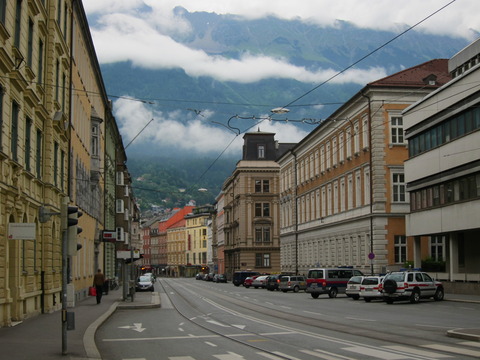 Today was a rain day, so we just stayed near Innsbruck. I accompanied Cynthia to a bike store while Piaw and Kekoa made arrangements to obtain a rental car. Piaw was able to obtain a good weekend rate, which would allow us to do some sightseeing today (Saturday) and then drive to Bludenz tomorrow (Sunday).
We went to the grocery store to stock up on food, since nearly everything is closed on Sundays. We have the maturity of thirteen year-olds, so we all laughed at some of the European brand names they have there:
In the afternoon we drove to Schloss Ambross (Ambross Castle), which had a couple of neat exhibits, and some very impressive interior design. And a real, live peacock wandering around the grounds.
After we got back, we headed towards the alternately quaint and cute "Old Town" area of Innsbruck for dinner.
The place we went to for dinner had huge portions but awful service. I ordered hot chocolate and received a beer. Lisa received an entree that was completely different from what she ordered. When asked about the entree, the waitress indignantly insisted that the two dishes were very similar.
Up | Next: transporting a fox, a lamb, and a head of cabbage across a river