Day 3: Kreuth, Germany to Innsbruck, Austria
18 June 2010
I woke up early, so I took a walk around town in the morning.
| | |
| --- | --- |
| Kreuth | Breakfast |
After a gigantic breakfast (bread, butter, ham, cheese, boiled eggs, cereals, yogurt, pastries, juice, and tea), we set out for Innsbruck.
We crossed the border from Germany into Austria at the summit of Achenpass. It started drizzling a bit at the top of the pass and the rain got heavier as we descended. By the time we rolled down to Achensee, everyone's clothes were drenched (and my shoes and socks were soaked as well, as I had no fenders). We stopped at a restaurant and had goulash and bread for lunch.
| | |
| --- | --- |
| Achensee | Mmm... goulash! |
The rain lightened up a bit after lunch. We descended through Jenbach into the Inn river valley, which is apparently completely filled with mines and heavy industry. In the valley, though, a bad headwind hit us. Not wanting to fight it all the way to Innsbruck, we hopped on a train at Terfens and took it all the way to the city.
| | |
| --- | --- |
| Inn River valley | Innsbruck train station |
At the Innsbruck train station, Piaw and Cynthia went to go ask about available accomodations and travel options. It turned out that one of the train lines on our route west (between Landeck and Bludenz) had been washed out by the rain! They were shuttling passengers across the cut by bus, but the buses didn't take bikes, so we would have to find another way to get across. (Apparently, a few weeks later, a similar washout happened in Italy, between Bolzano and Merano. But the Italians are a lot less careful about inspecting the tracks regularly, and a train derailed, and people died.)
We checked into Hotel Dollinger, which was right on the Inn River. I love the characteristic silvery blue color of snowmelt in the river, although pictures don't do it justice.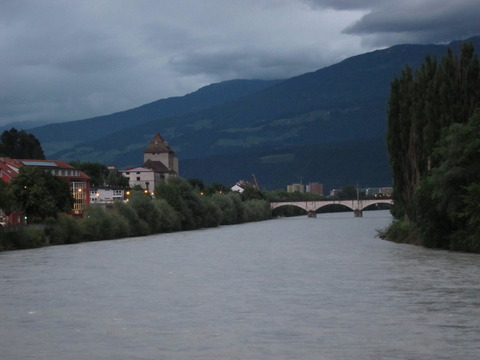 In Europe, internet cafes are plentiful, but outside of the big cities, wifi is hard to find (even when there was wifi, it was often flaky). In 19 nights in Europe (excluding Munich) I think we had internet access for only about 5 of those nights. When one is on vacation, that actually turns into a semi-desirable thing. There was something liberating about traveling and knowing that only five people on the entire planet even knew what country I was in.