Day 19: Cape Blanco
5 October 2011
I woke up to find it still raining, so I called a rain day. I extended my stay at the motel by a day, which required moving my things into a new room.
I went out to try and find a place to eat breakfast; however, the only place in Port Orford I could find that was open at 10 in the morning was a Mexican restaurant. You would have found no objections from me, though.
After returning from breakfast/lunch, I took a nap. Whenever I woke it was no longer raining and there were a couple of hours of daylight left. I backtracked north a few miles to visit Cape Blanco State Park and its lighthouse, which is (pending the outcome of hair-splitting) at the westernmost point in the contiguous 48.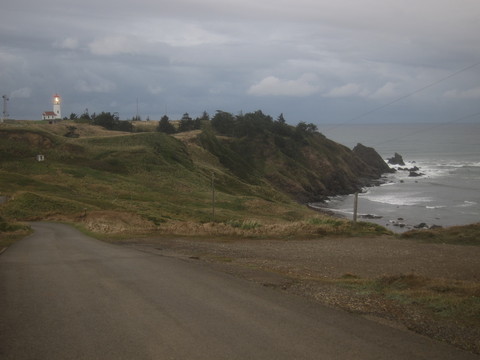 Cape Blanco Lighthouse
There were high winds at the cape and at the lighthouse, but no rain. The cliffs and the beach were gorgeous.

View from Cape Blanco
I ate dinner at Paula's Bistro, also close to the motel. The food was wonderful; I ate at the bar so I got to chat for a bit with Paula and her husband, who run the place.
Dessert at Paula's Bistro
Up | Next: Port Orford to Smith River, CA