Day 1: Seattle, WA
17 September 2011
Samson drove me and my (boxed) bike to San Jose airport in the morning.
A couple of hours later I landed at Sea-Tac. Alaska Air seems to be pretty on top of things: when I got to baggage claim, my bike and saddlebag were already waiting for me. I took about 45 minutes to reassemble my bike, repack my saddlebag, dispose of the box, and do a quick-change. Then I rode out of the airport towards downtown Seattle.
I was apprehensive about the ride into the city but it wasn't bad at all with respect to car traffic. The afternoon was cloudy but the rain fortunately stayed away. The Sea-Tac area was quite industrial-looking, but the route took me past Boeing Field, which was sort of cool.
I checked in to the American Hostel, in the international district. The hostel is clean and nicely furnished, and is located conveniently to both the Amtrak station (two blocks) and a decent Chinese bakery called "A Piece of Cake" (right next door).
A Piece of Cake
Evan Kutter picked me up at the hostel and took me out with his friends. We had some drinks at a brewery, then went to a pizza place to eat.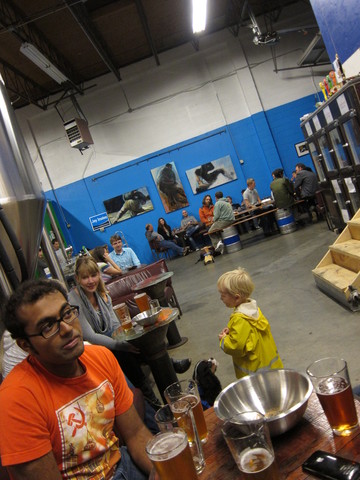 People bring their children and their dogs to the brewery... welcome to Seattle!
Up | Next: procuring more gear