Prologue
I had been vaguely thinking about doing a bike tour down the central coast for some time, but I only really started putting this together when I happened to pass by a large photo print of Bixby Bridge at Big Sur. I have to be there, I thought. I can't rationally explain why I felt so compelled to go, but that print really set something ablaze in my mind. Sue, Ed, and Yoyo were on board, and we started to plan for a six-day self-supported tour (and one day of car travel to return to the bay area).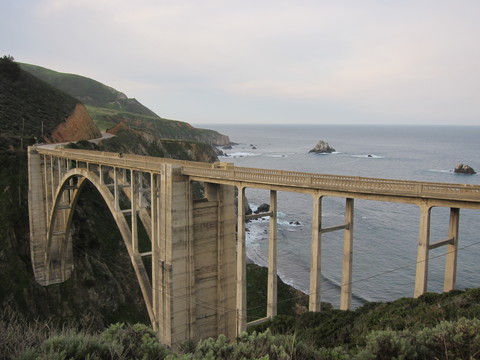 Several weeks before we were to start, it appeared that our trip plan might be foiled by Mother Nature. On March 17, a piece of Highway 1 washed into the sea near the Rocky Creek bridge, just south of Carmel. A 2-mile segment surrounding the washout was deemed unstable and was closed to automobiles, bicyclists, and pedestrians.
Just a few days later the coast was hit with an unusually large amount of rain (we all happened to be in Sonoma at the time on a rehearsal bike trip, but that's another story). Two more landslides closed Highway 1 at two additional points along the central coast: one at Limekiln, the other just south of Gorda. Fortunately, both of these slides were from above the road and caused no structural damage to the road. Both would be cleared within a week, but people were actually trapped in Big Sur between the Rocky Creek and Limekiln slides for a period of a couple of days.
We had started to make alternative plans to get to Big Sur via an inland route. This would require changes to our lodging plans: taking the inland detour from Monterey to Lucia (via Nacimiento-Fergusson) would turn a 55-mile day into a 115-mile day with several thousand feet of climb, which I did not consider feasible with loaded bikes.
After the two southernmost slides had been cleared, Rocky Creek was still not passable, with construction crews working around the clock to repair the road. On March 29, however, we got some good news: Rocky Creek would be passable to pedestrians and bicyclists twice a day, at 7am and 4pm (the times were chosen to accommodate students going to and from school). All we would need to do was arrange to arrive there at one of those times, and we would be able to cross and cycle Big Sur. I was ecstatic, since Big Sur was the thing that I was there to see.
Kalvin was a late addition to the trip roster; Kalvin and Sue offered to split the responsibility of driving a support car (I offered my minivan as we already knew it would accommodate five bikes and five people). Given the unstable and unknowable road conditions, a support car to ferry us around road closures seemed like it would a good thing to have.
As we were about to leave for the trip, things looked as good as they had in several weeks. Rocky Creek was passable by pedestrians twice a day. Further south, the road was passable to cars as well as bikes, though it was closed at night for safety reasons. Sun and tailwinds were forecast for as far out as the forecast went. So, with the spectre of possible road closures looming, we headed out on April 9 operating under our original plan.