Day 7: Goleta to Saratoga
15 April 2011
This morning, for the first time that week, we woke up to find that it was not oppressively cold outside. We ate breakfast at the hotel and packed all our things into the car.
Sue's sister's fiancé's former roommate, Miles, had heard we were in town. He worked at Segway of Santa Barbara, and had offered to give us a Segway tour. We all piled into the car and drove to Santa Barbara.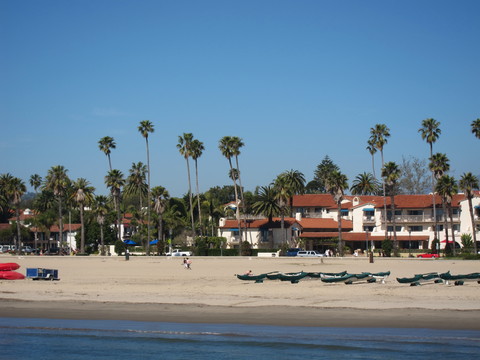 After a short training session and obstacle course test, we were off!
The tour took us past several (gorgeous) beaches as well as past the zoo. Thanks, Miles!
This was my first time riding a Segway, and it was reasonably easy to learn how to use one. They are fun to ride, though, not quite as exhilirating as being on a bike (not least because, in order to be sidewalk-legal, they are speed-limited to 12.5mph).
After the tour, we ate lunch at Freebirds World Burrito at UCSB, and then started the drive back up to Northern California.
Bicycling the Pacific Coast had recommended a stop at Andersen's in Buellton for their pea soup. I love pea soup, and was somewhat intrigued, because the vast majority of POIs mentioned in Bicycling the Pacific Coast are beaches, and specific restaurants are almost never called out. Alas, our route down to Goleta had not passed through Buellton. Coming back, however, we happened to pass through Buellton, and I insisted on a short detour to check the place out. From the billboards along the highway it seemed that pea soup was not just the specialty of this place, but the entire town's claim to fame. ("Welcome to Buellton, home of pea soup"!)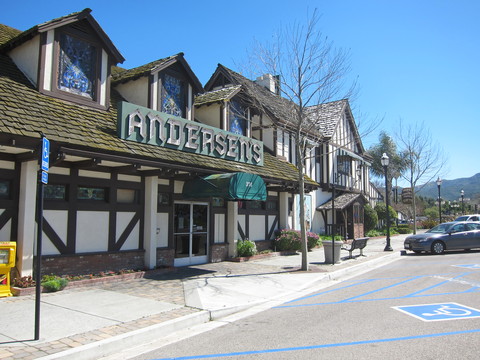 The place seemed mildly like a tourist trap (though not nearly as bad as Solvang). Still, I got a quart of pea soup to go, and it was actually quite good. Despite the warm weather (not ideal conditions for drinking hot pea soup), the soup was gone by the time we got back up to the bay area.
After several hours of driving, we stopped by Sonic (drive-in fast-food place) in Gilroy to get some sodas and greasy food. Yoyo remarked that at Sonic, everything is brought to you (in your car, even), which makes it approximately the opposite of a cycle tour.