Day 2: Capitola to Monterey
10 April 2011
I woke up early the following morning and decided to take a short ride to the beach. When I got there it was only 8am (and pretty chilly) but there were already many surfers out in the water.
When I returned, we all went down to the hotel lobby to eat breakfast. It was advertised as a continental breakfast but the hotel also had a waffle iron and had put out some batter, which was not something I had seen before (though we all appreciated it).
After breakfast we headed out, again with Kalvin driving the morning shift. Once we left Capitola, the road stayed close to Hwy 1, but occasionally ducked into shaded corridors lined by ivy-covered walls. Outside of the Santa Cruz/Capitola area, the city gave way to farmland, mostly fruit fields.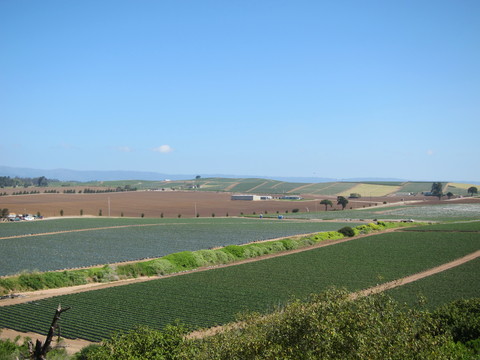 We turned off at Sunset Beach Rd to take a detour that I hoped would yield better views of the beach— which it did, but not in the way I had hoped. The road took us over a couple of hills, after which we ended up at Sunset State Beach. Here we found that continuing to follow the road would put us knee-deep in mud (the road is not usually passable until summer!). Rather than backtrack we decided instead to hop over to the beach and continue south by walking our bikes. The map showed that we could reach a real road again in about half a mile.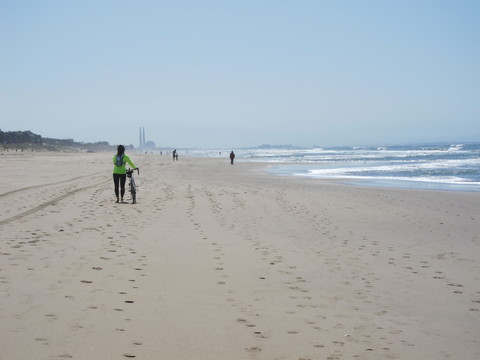 Ah, well, it's not a real Piaw tour without some off-roading... hey, wait a minute! This isn't a Piaw tour at all!
In the distance is the Moss Landing power plant.
After some time we did indeed reach the road. We changed back into our shoes and resumed riding.
We arrived at The Whole Enchilada at Moss Landing, our lunch stop, about 45 minutes later than originally planned. I had been to The Whole Enchilada restaurant before but there is also a grocery of the same name alongside it that sells sandwiches, tamales, and a variety of fresh fruit. Tragically, I have a well-documented weakness for tamales.
After lunch we continued on Hwy 1 for a bit (against a decent headwind, in places) before reaching the Monterey Bay Coastal Bike Trail, which took us the last 8 miles to the hotel. The path starts in the rural areas and then guides you through some of the cities near Monterey. Finally, as you reach Monterey proper, and the beach, the trail feels in places like it is in danger of being swallowed up by the nearby sand dunes. Here the beach had a very different characteristic, with sandy beaches and easy access to them, rather than the cliffs and rocks typical of Santa Cruz.
We stayed at the Best Western Plus Beach Resort Monterey, which is apparently the only hotel in Monterey that is directly on the beach. It was grandfathered in but current zoning regulations do not permit any more such hotels to be built.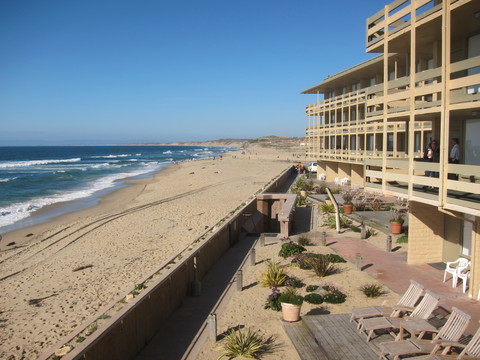 This place is on the beach and is still reasonably priced, astonishingly enough
Anyway, they don't let you forget about their unique claim to fame:

Look at us, we're Directly On The Beach!
We walked to dinner at the Monterey Fish House, and finished just in time to catch a brilliant sunset over the Monterey peninsula: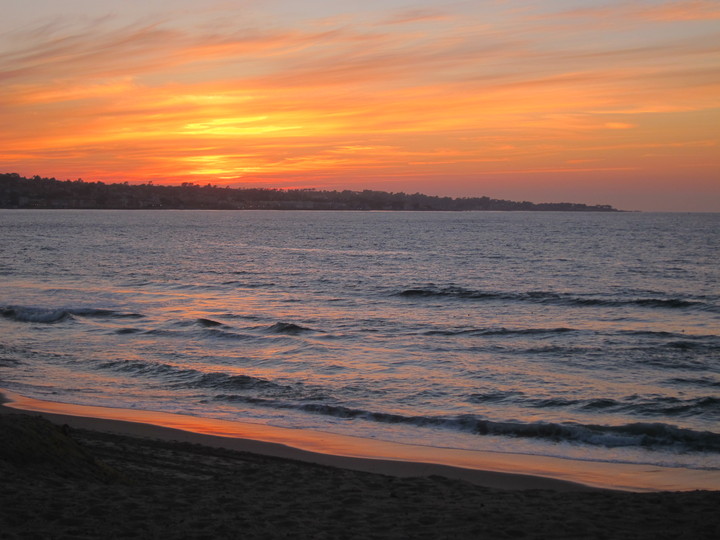 The following day we would have to get up early to cross the Rocky Creek closure at 7am. Kalvin would drive us and our bikes to the beginning of the closure, to keep us from having to bike 17 miles before sunrise. We all, therefore, slept early.