Day 18: Hiking to First
3 July 2010
Yet another brilliant morning greeted us. We started hiking up to First, which was basically the opposite direction from where we had gone the previous day.
| | | |
| --- | --- | --- |
| Grindelwald valley | | |
After a little over an hour, we reached Bort, where you can take the gondola down to Grindelwald or up to First. We stopped for snacks and then continued up along a steep and partially shaded trail with many, many switchbacks.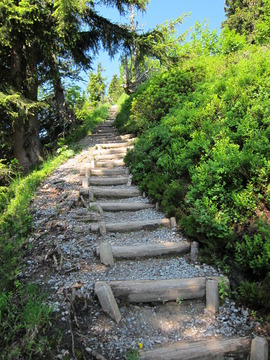 Arriving at the Waldspitz, we stopped at a restaurant for some iced tea and admired the view across the valley.
| | |
| --- | --- |
| Paragliders over the valley | |
Past Waldspitz, the path turned a corner and headed up into a small valley with a stream. The whole place was covered with grass, and if you turned around you could see the Eiger, Mönch, and Jungfrau across Grindelwald valley.
This place was amazingly serene, and it reminded me of the view from Hornseeli, which was one of the best and most vivid memories of my previous trip to Switzerland (the fact that it reminded me of Hornseeli is not altogether surprising, as Hornseeli was just on the other side of Grosse Scheidegg).

The path headed up the mountain to Bachalpsee, which was much more crowded because many tourists took the gondola up to First and took the short hike from First here.
| | |
| --- | --- |
| Bachalpsee | |
The trail down to First overlooked the valley we had just come up through, as well as Grindelwald valley further down. Looking over the edge it felt like one was sitting at the top of the world.
| | | |
| --- | --- | --- |
| First | Looking over Grindelwald valley | Grindelwald valley (background) |
We stopped at First for a very expensive lunch. After lunch Piaw decided it would be more interesting to take the scenic route down to Bort. As it turns out, this meant descending along a cliff face. This part really freaked me out.
Now we started to hurry down the valley, since we could see the storm clouds gathering. At Waldspitz we picked up the trail that we had come up, and took the many switchbacks down. We had nearly reached the bottom when the sky started to open up.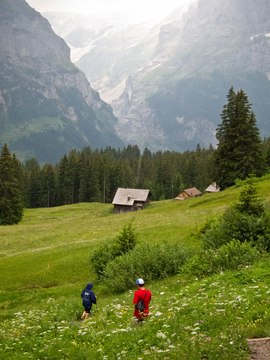 Run!
We ran the last segment to Bort. Here many other hikers were now also trying to catch the gondola down. We took the gondola back to Grindelwald and waited out the rain at the station before walking back to the hotel.
That night we had to move out of our room at the hotel and into shared accomodations. A couple of mountain bikers checked in and we shared our stories.