Day 11: Bellinzona to Pian San Giacomo
26 June 2010
I was feeling much better when I woke up. The warm weather was rather uncomfortable, but had helped me to sleep and kept my lungs from getting aggravated. Today we would return to higher (and cooler) altitudes, heading up towards San Bernardino pass.
We noticed that as we had been getting progressively closer to Italy, the breakfasts had been getting more and more anemic. They had started out looking like banquets, but now we were just getting a basket of bread and a plate of ham and cheese for the table.
The ride started out mostly flat, cutting across some eye-poppingly green fields.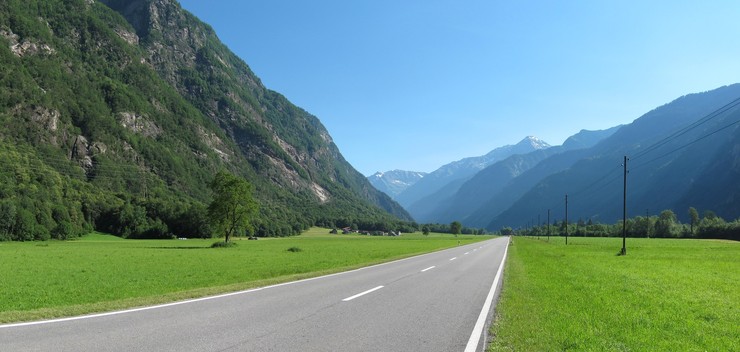 Soon the road got steeper, and a couple of churches and castles could be seen overlooking the road.
We stopped at a grocery in Soazza for lunch. After lunch the road got much steeper. By 2 or so we arrived at the tiny town of Pian San Giacomo. Since it was a Saturday, and the hotels were likely to fill up early, we decided to stop here for the day. There was only one hotel in town, but we had trouble finding it (we actually rolled right past it without realizing it was a hotel). They had an apartment that they converted into a 5-bed suite for us.
There was hardly anything in the town (across the street from our hotel, there was nothing but a big field with hay bales wrapped up). I got to relax in the near-perfect afternoon weather. It was easily the most delightful and idyllic place I stayed at in Europe.